HIGASHIURAHEISEI
HOSPITAL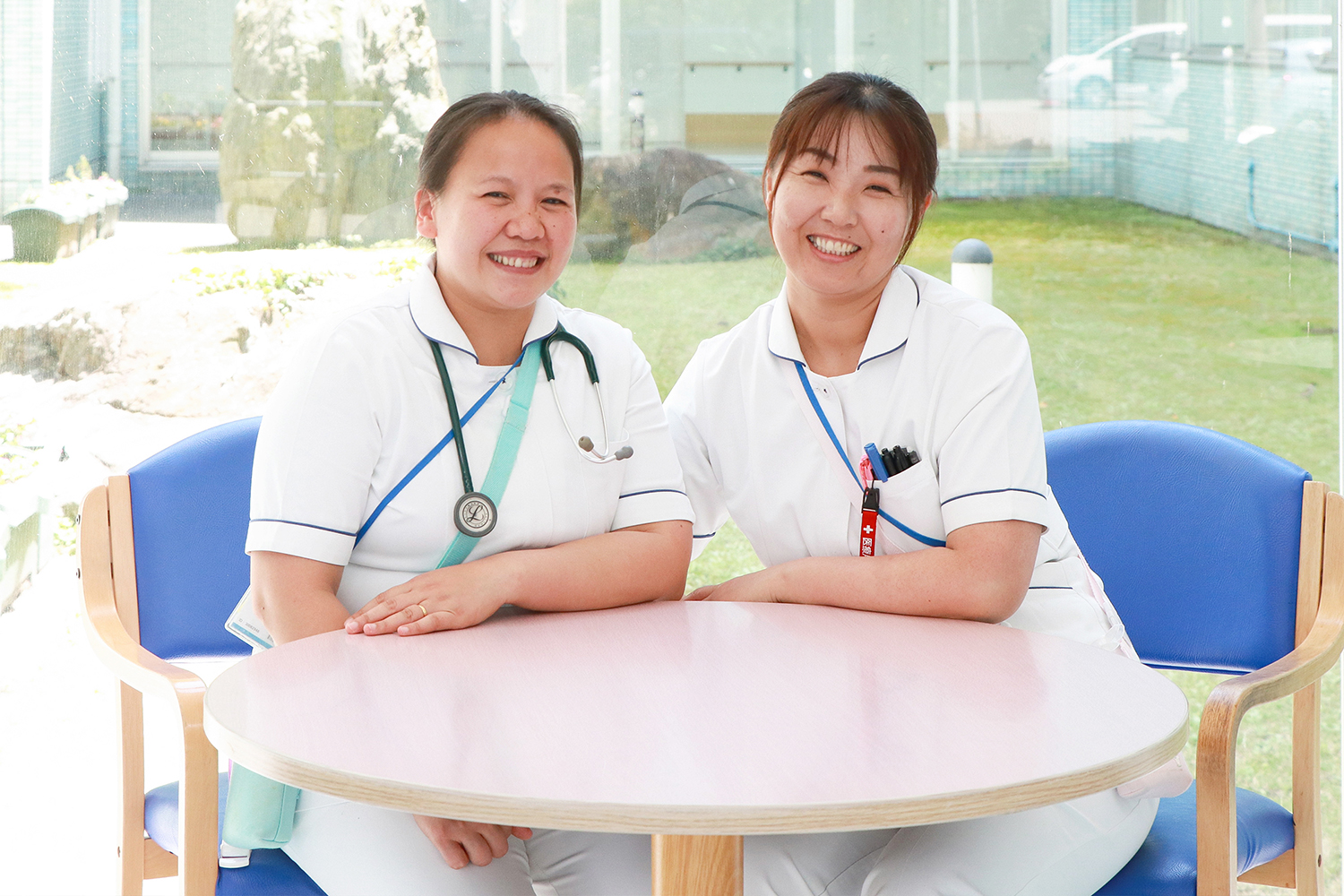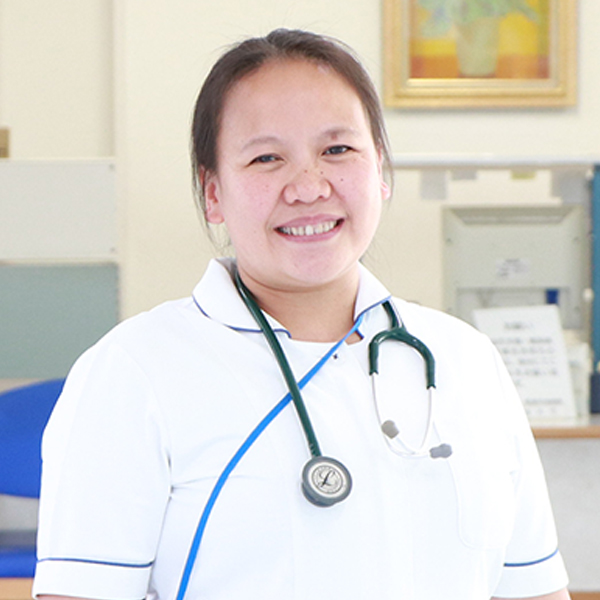 Chief Nurse:
MOSE IVY DAQUIL
I worked as a nurse at a hospital overseas after I had acquired a nurse qualification in the Philippines. Since I liked Japanese anime, I decided to come to Japan when I heard about EPA Candidates Program in 2011. I didn't get much culture shock because I kind of knew what Japanese culture was like in anime, but it was hard to learn Japanese. But Ms. Kobayashi took me out sight seeing every holiday. I experienced dressing up as a "Maiko" and went to Universal Studios Japan. They are some of the best memories! Those experiences made me want to study Japanese more.
The support I received in Japan was very satisfying. I had a room near my work place and I didn't have to worry about meals. When I held a party, staff members came to my place with Japanese food. I like life in Awaji Island so much, so I will continue to live here.
I had full study support for three years before I passed the national exam. They adjusted my work hours so that I could focus on studying and that led me pass the national exam. I work in the same condidion as the Japanese staff after passing the exam. At first, I sometimes felt working as a nurse in Japan was hard but positive comments by patiens, like ""You are so sweet!", made me feel so rewarding. I used to be in the position of learning, but now, I teach EPA candidiates nursing and other kind of jobs as a leader. I am so happy that Ms. Kobayashi counts on me and there are more EPA staff members.
It is almost 10 years since I came to Japan. I am planning to gain Japanese citizeship so that I could work in Japan as a nurse. At the moment, we don't have any new EPA candidates, so we hope they come to our hospital. Japan is a very nice country to live. We have 14 EPA candidates and EPA qualified nurses in total. You will have many peers to support you, so why don't you try and join us?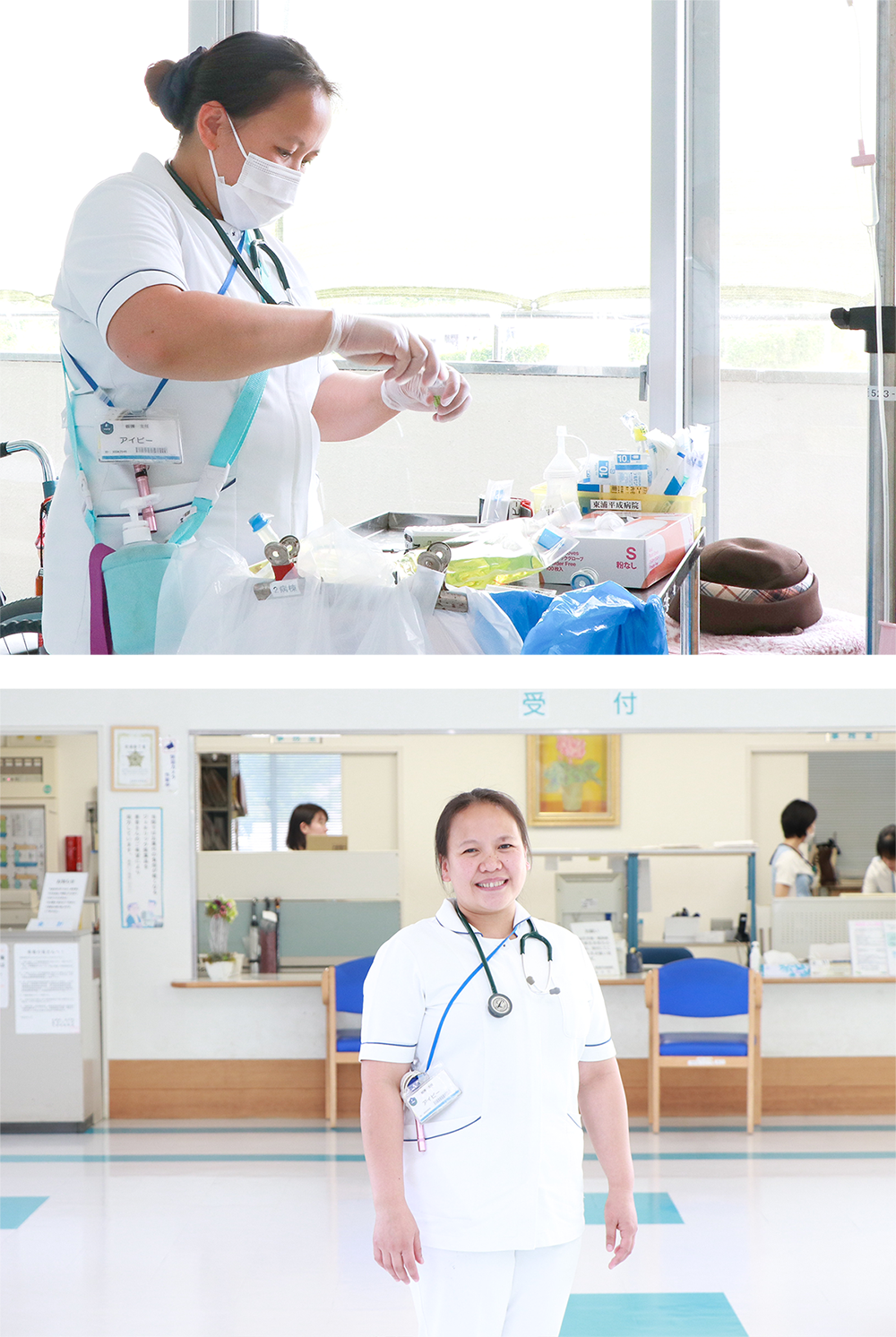 ---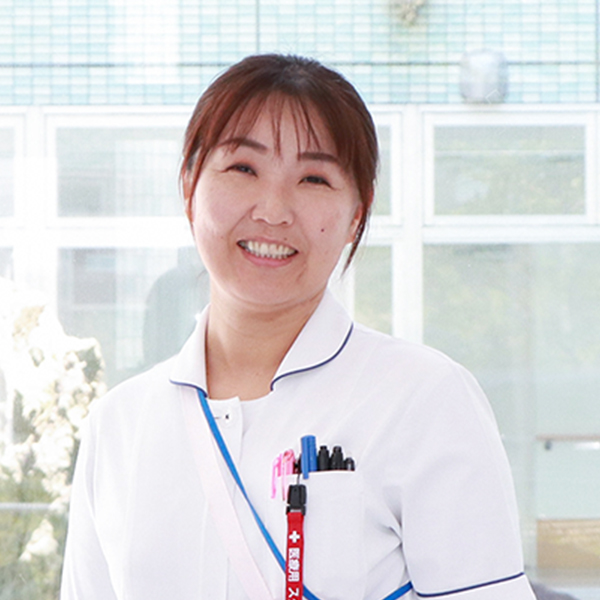 Chief Nurse:
MOSE IVY DAQUIL
Currently, there are 23 EPA nurse candidates at Higashiura Heisei Hospital, and 9 of those candidates have already passed the national exam. Ivy was the first candidate who I was in charge of. We have learned a lot through trial and error at first, but the warm character and positive attitude of EPA candidates gave a boost to the whole nursing department. Seeing how hard they work, we also came to try new things positively. We thought there are more important things than studying only for the national exam. That is why we try to inspire them by giving opportunities to refresh their mind and feel more comfortable in Japanese language and Japanese culture. At first, there were only EPA candidates and me who were in these activities, but other staff members decided to join them little by little. Now, so many people join big seasonal events with us. Bonds between staff members got stronger since these candidates came to our hospital.
Ivy acquired a national nurse license 3 years after she came to Japan. After that, she got married and had a baby. I was so happy when I heard that Ivy wanted to have her baby in Japan. I gave my best to support her as if I was her own mother.
Currently, Ivy is in charge of EPA candidates and junior colleagues as a chief. She is a role model for junior candidates. If we accept new candidates, both Ivy and I are ready to support them. We hope more candidates come to our hospital. We will give our best to support them.